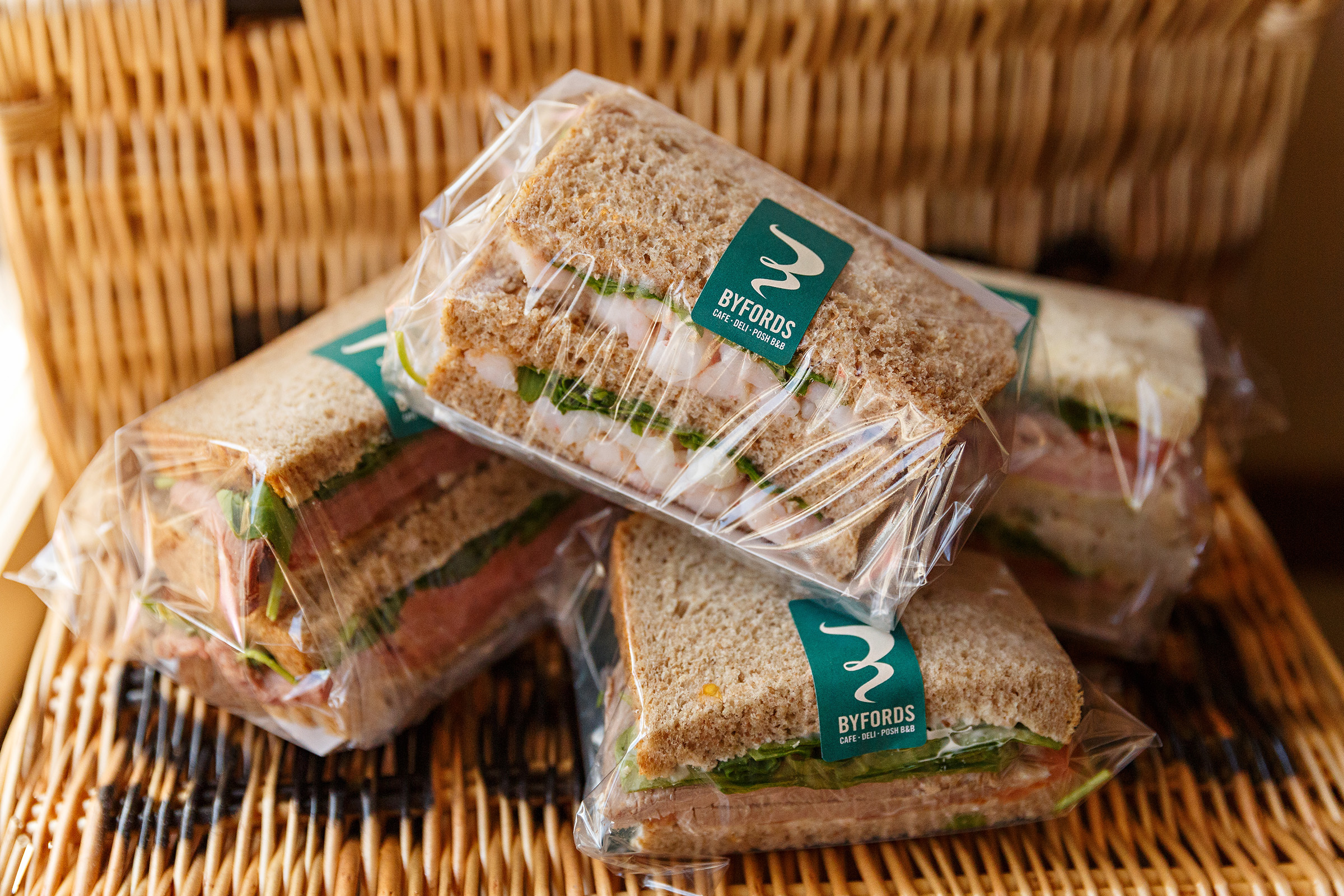 ---
'Souper' Delicious Lunches!
READY, STEADY, COOK!
With what seems to be the coldest weather we have had in a while; it seems fitting we turn to the head chefs of the business to warm us with their favourite soup and sandwich recipes. I don't think there's anything more comforting than sitting indoors when it's freezing outside and tucking into a bowl of homemade soup- and with these recipes, you get the bonus of some delicious warm sandwiches alongside that steaming bowl!!!
Look out for more recipes later in the lockdown- next time with a sweeter theme to them!!
Stay safe out there all!
AJ - BYFORDS HEAD CHEF
"Soups don't get any more classic than tomato and basil!"
TOMATO & BASIL SOUP
SERVES 4
Ingredients
100g White onion, peeled and roughly chopped
100g Carrot, peeled and roughly chopped
100g Leek, washed and roughly chopped
100g Celery, washed and roughly chopped
3 cloves garlic, chopped
1 good handful of fresh basil
1.5ltrs Vegetable stock, hot
40g Tomato Puree
150g chopped tomatoes
Salt and pepper
Method:
In a large pan drizzle a little oil and place on the heat. Heat until hot and add the vegetable and garlic.
Lower the heat slightly and sweat the vegetables down until slightly soft- around 5minutes.
Add the tomato puree and stir well.
Add the chopped tomatoes and hot stock and stir again.
Bring to the boil and simmer until the vegetables are completely soft.
Add the basil, a good grind of salt and pepper and blend with a stick blender until smooth.
Taste and re-season then serve with a cracking slice of rarebit!!!
CLASSIC RAREBIT
SERVES 4
Ingredients:
40g flour
40g butter
250ml good quality stout or bitter, warmed
250g Smoked Norfolk Dapple, grated
2 tsp Colmans Mustard
2 tbsp Worcestershire sauce
Cracked black pepper
4 good slices of fresh sourdough
1 Tomato, sliced
Olive oil to drizzle
Method:
In a small saucepan melt the butter, add the flour and cookout for a couple of minutes.
Stir in the warm beer gradually, until you have a thick but smooth sauce. Add the grated cheese (leaving a little aside to finish) and stir until melted. You should now have a thick paste. Mix in the mustard and Worcestershire sauce, taste and season well with black pepper. Allow cooling before using
Drizzle the slices of sourdough with a little olive oil and toast on one side. Place slices of tomato on the untoasted side and the spoon the cheesy mixture on top. Sprinkle with a little cheese and cook under a hot grill for a few minutes, until browned and bubbling.
Serve with your soup and enjoy!!
MC - THE PIGS HEAD CHEF
"I've been making this soup for years- in fact- I had it just after Christmas as well!"
PEA & HAM SOUP
SERVES 4
Ingredients
For the ham stock:
1 ham hock
1 onion, roughly chopped
1 large carrot, -roughly chopped
1 celery heart - roughly chopped
1 bay leaf
Method:
Cover the ham hock with cold water, bring to a simmer over medium-high heat and skim off any residue.
Add the stock veg and simmer for two and a half hours until the meat is tender, topping up with water if needed.
Pull out the ham hock, strip the meat from the bone and strain and reserve the stock.
Ingredients
For the soup:
50g unsalted butter
1 onion - finely diced
1 leek - washed and shredded
2 celery sticks - finely sliced
1 litre of ham stock
500g frozen peas
300g shredded ham hock (plus a little for garnish)
Creme fraiche for garnish
Method:
In a medium-sized pan melt butter over medium heat and soften the onion, leek and celery.
Add the ham stock and bring to the boil.
Add the peas and cook for a few minutes until tender. Remove from the heat and blitz until smooth.
Place back on the heat and add the 300g of shredded ham hock. Season with black pepper only - the ham stock will be salty enough - and garnish in your serving bowl with more shredded ham hock and creme fraiche.
GRILLED CHEESE
Ingredients
8 thick slices of tiger bread
100g Unsalted butter
300gShredded ham hock
200gMature cheddar
4 tsp Colman's English Mustard
50g Grated parmesan
Method:
Make up your cheese, ham and mustard sandwich to your liking - plenty of butter and plenty of mustard for me!!
My hint is to butter the outside of the sandwich as well as a generous sprinkling of parmesan.
Wrap the sandwich in greaseproof paper and place in a toastie press - alternatively, place in an ovenproof frying pan and then through the oven to melt the cheese.
What you'll end up with is a crunchy, oozy and sturdy sandwich to dunk in your equally sturdy pea and ham soup. Enjoy!!!
ADAM - THE FFOLKES HEAD CHEF
"I don't do soup but have done this so Tom can make it at home!"
BUTTERNUT SQUASH, CHILLI & COCONUT SOUP
SERVES 4
Ingredients
2 butternut squash – peeled and chopped
2 medium-sized red chilli – deseeded and sliced
1 white onion – diced
4 cloves garlic, chopped
6 leaves fresh sage
1 tin coconut milk
400g potato – peeled and chopped
A thumb-sized piece of ginger,- sliced
1tsp ground cumin
1 tsp ground coriander
1 cup white wine
50g desiccated coconut
1 tbsp tomato puree
Salt &pepper
4 ltrs water
Method:
Get a good-sized saucepan as this is all in one pan jobby. well mostly
Sweat down the white onion, add the garlic and continue for 1 more minute
Add water and white wine to onion and garlic
Add squash and potato, a pinch of salt and pepper and bring to the boil
Simmer for approx. 25minutes
In a small frying pan, we are going to make the spice mix.
Bring oil to a good heat, add the ginger, chilli, ground cumin, ground coriander – fry on low heat for approx. 2 minutes stirring occasionally, then add the tomato puree and 2 tbsp water then continue to stir on low heat for approx. 3minutes
Add sage and coconut milk to the big pan after the 25mins, then add the spice mix and cook for 5mins altogether
After 5minutes remove from the heat and blend away.
Place the desiccated coconut on a tray and toast until golden.
Check the seasoning of the liquidised soup, if needed add more salt and pepper to taste.
Chuck it in a bowl and sprinkle toasted desiccated coconut on top
TOASTED CHICKEN SANDWICH
SERVES 4
Ingredients
1 loaf of Sourdough, sliced into 8 slices - You can use whichever bread you like, but this would be my choice
1 to 2Little Gem Lettuce – iceberg, romaine your call- peeled and washed
400g Skinless and Boneless Chicken Thighs – if you like a bit of breast you can use this
200g San Marzano tomatoes or whatever you have – cherry, plum, beef.
150g Lime Mayo – get some mayo and add zest and juice of half a lime
Method
Get a cast iron griddle pan hot and toasty
Lightly brush one side of your bread with oil and lightly chargrill in your pan on the oiled side, set it to one side
Chargrill your chicken adding salt and pepper just as you put it in the pan.
While your chicken is cooking, you want to be slicing your tomatoes and shredding your lettuce.
Pop a nice dollop of mayo on the bread, and layer your lettuce and tomato ready for the chicken.
Once your chicken is cooked, slice and layer on top of the tomato, add the top slice of bread and you are good to get a munch on! Serve with your soup!!